Thirteen Great Ways to make your Offshore Project Fail | White Paper
Way back in 2003, Arrk Group's Executive Chairman Julian Howison was quoted in Computer Weekly (a June 24th article concerning the future impact of offshore on UK IT Services market) saying that when it comes to the offshoring of software development and support, "UK companies have no choice". He said that for UK IT companies in particular it was "a matter of life or death". At the time, it seemed pretty bold stuff.
However, between 2003-2008 Indian outsourcing industry revenues grew 210% from $10Bn to $31Bn and as predicted the offshoring of software development and support activities has become commonplace. The European proportion of this has grown very fast and now represents about 25% of the overall figure. Quite a feat.
In the heady rush offshore during the late 1990s and early 2000s, buyers of offshore services paid little attention to issues of productivity and quality. Management seemed only to care about saving money – and the more the merrier! The bigger the project, the faster it was thrown offshore.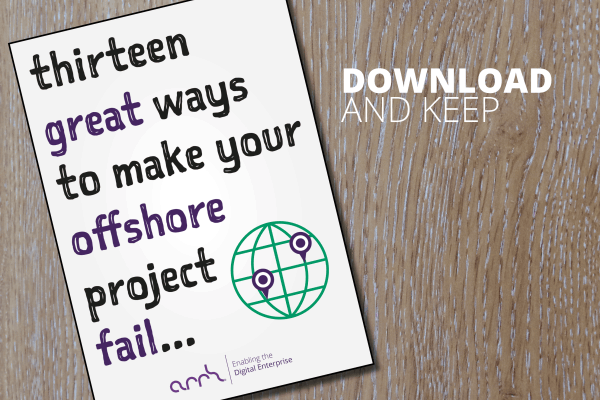 Needless to say, not all such offshoring projects were successful. Indeed, having spoken to a great many senior IT managers and software product managers up and down the UK we find very few who talk 100% positively about offshore and we have talked to a significant percentage who are clearly still suffering a serious hangover as a result of their early offshore excesses.
The fundamental message that we at Arrk try to communicate to our Customers is that, as with most other walks of life, when it comes to offshoring software development and support there's no such thing as a free lunch.
Let's be clear, offshoring can work. All too often we find ourselves sitting in front of a Customer who tells us with great solemnity that they are going to conduct a pilot project involving 3 people for 2 months so that they can determine whether or not offshore works! Hmm…
However, the careful reader will have noticed that we said 'can work' not 'does work'. The truth is that offshoring is complex and for the uninitiated there are countless pitfalls and problems into which we see Customers falling time and time again.
Responsible offshoring
What we hope to do in this paper is to give the reader some sort of insight into what we believe makes offshoring fail – and by implication what makes it work. By passing on some of our experience, we hope that you will be able to avoid ending up with one of those unpleasant hangovers that can cause so much embarrassment at the boardroom table.
Download Thirteen Great Ways Your Offshore Project Will Fail White Paper now.