SMEs Challenge Big Business Through Outsourcing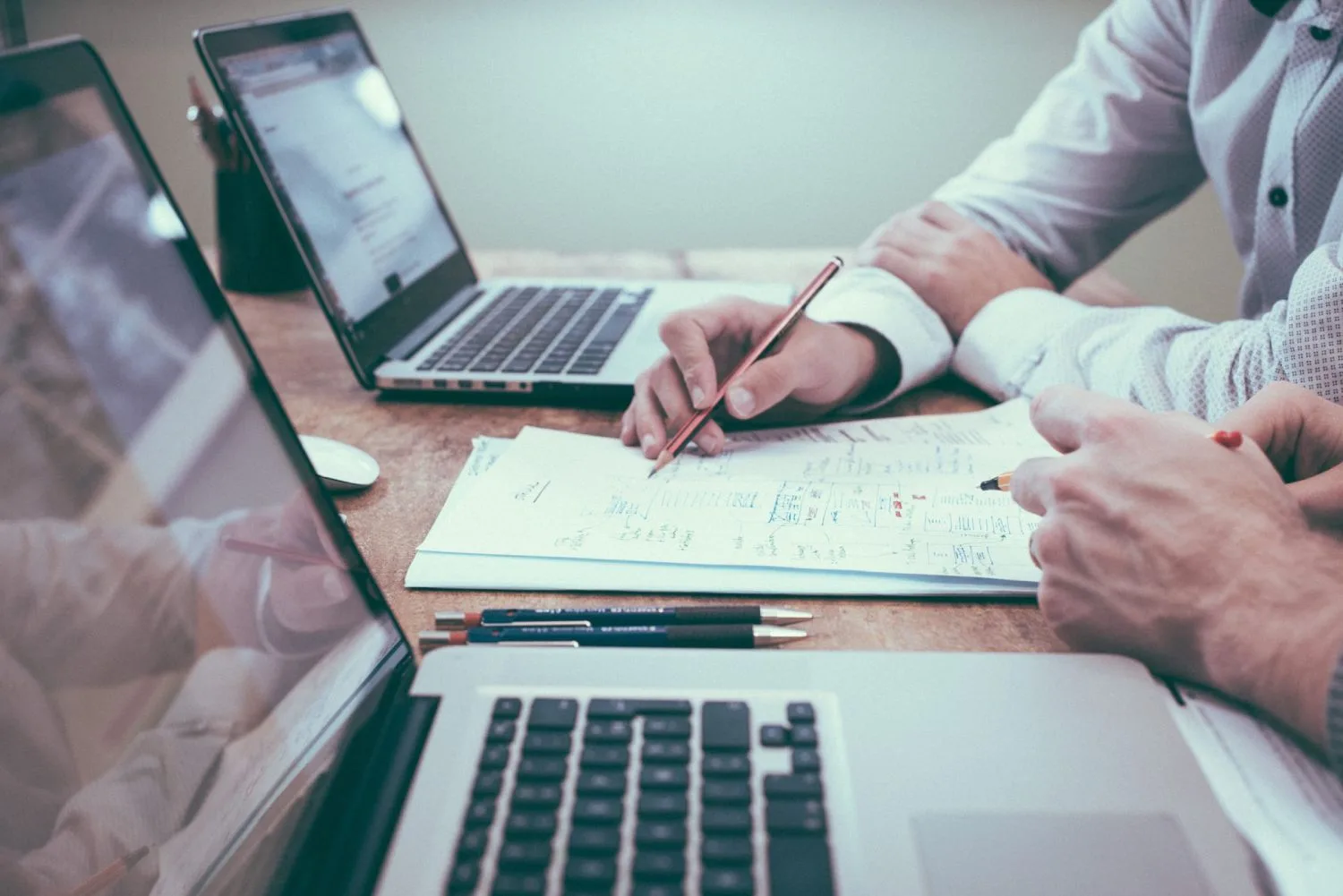 It's that age-old business mantra we've been hearing since we can remember – the customer is king. It highlights the importance of customers (and potential customers) in every business. Traditionally, it's a rule that means your company promises to provide good customer service. But with the current evolution on work and business settings, 'the customer is king' means more than just subscribing to good customer service, it means really practising it too.
We live in a fast-paced 'everything now' era. Endless tech-powered innovations are giving customers more choices than ever before. Therefore, companies must adapt, improve, and deliver solutions faster to stay competitive and meet ever-changing customer needs. This nimbleness, and the ability to switch tack to take advantage of a new opportunity, is playing into the hands of SMEs, as they often don't have the same rigidity in processes and policies in comparison to their big business counterparts. Plus, they're also now benefitting from a strategy that has traditionally be seen to be reserved only for large organisations – outsourcing.
Levelling the Playing Field for SMEs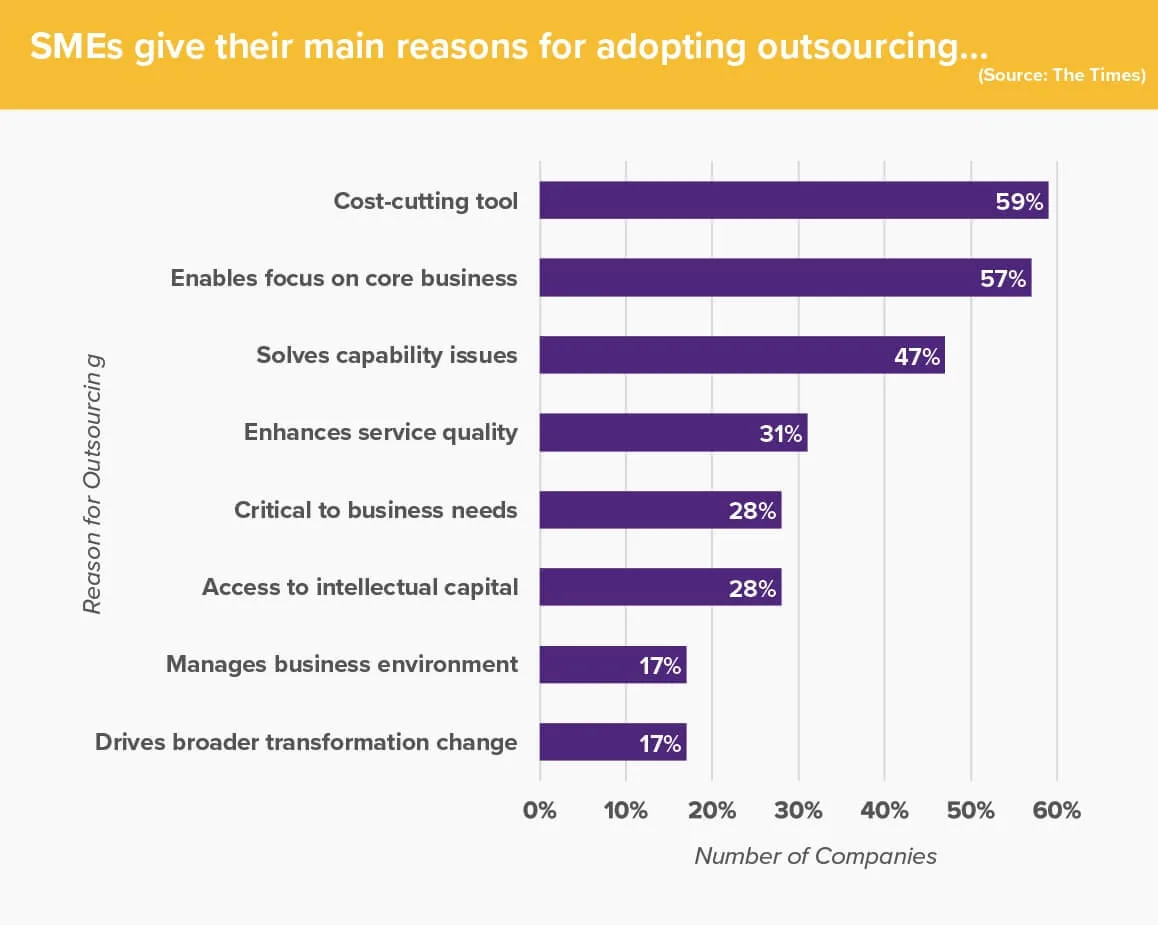 Outsourcing is levelling the playing field somewhat for SMEs, who simply can't afford to match the in-house support services that larger companies maintain. It can help them act 'big' by giving them access to the same economies of scale, efficiency, and expertise that large businesses enjoy. A major shift in the outsourcing arena has also seen organisations benefitting from the increased flexibility in the options of 'what' and 'how' you can outsource – there's now a vast range of business benefits above and beyond the traditional well-known cost efficiencies. No longer do companies have to outsource entire divisions, such as its entire IT department, instead they can leverage expertise and capacity on a programme or project basis, with the option to scale up and down in line with business requirements.
A recent survey published by The Times, found that while cost, enabling core business functions, and solving capacity issues are primary drivers to outsource, leading practice SME organisations use outsourcing to drive transformational change and improve business results.
This is combined with aligning outsourcing agreements to tangible business benefits that have a powerful impact on their growth, productivity and the bottom line, which are often achieved due to the introduction of innovative new approaches or speedier go to market models.
Smart Outsourcing – Driving Operational and Business Benefits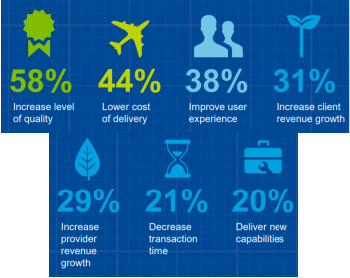 Each organisation is unique. And your outsourcing strategy must be formulated based on a clear understanding of your specific situational factors. Getting the basics right from the start by addressing the key considerations against your decision drivers, is key to ensuring long-term benefit and success. From improving user experience and lowering the cost of delivery, to delivering new capabilities and decreasing transaction time – there are many reasons why SMEs go after a outsourcing delivery model.
At Arrk our experienced consultants lead you through the process to identify how you can best leverage outsourcing, to make sure it has the biggest impact on your growth, productivity and bottom line. In our next blog, we will share with you how some of our customers have radically changed their operating models and have achieved incredible results through outsourcing arrangements.
One size doesn't fit all when it comes to outsourcing resource. With four areas where we can assist your digital growth, take a look at Arrk's outsourcing options.