My First 8 Months at Arrk Group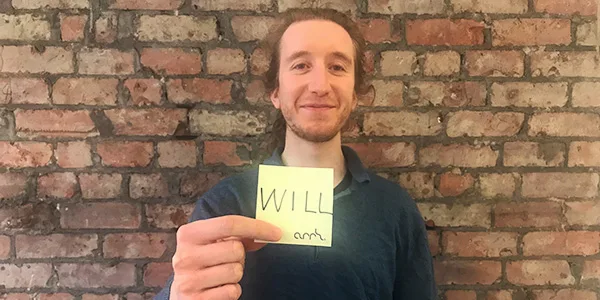 In my interview for Arrk, I was asked what I wanted to get out of this job. If I remember rightly my response was something like: "I'd like to learn all about the computer systems that are increasingly pervading every aspect of modern life." I am now in my 8th month.
When I started there was no predefined role for me. I am a physics masters graduate with interests in what sometimes feels like too many things. At the interview I was asked "What area would you like to specialise in?"
I replied: "Anything really – I'd probably be more competent at backend programming due to the scientific nature of it. Data science is something I would find my feet in with some speed, can I learn about machine learning? Hang on, I'm also really interested in Human-Computer-Interaction and information design so maybe I'd like to try my hand at UX (I was a little concerned that this would show me up as being jack-of-all-master-of-nothing – Maybe I should show them the bajillion and one ideas in my notebook?)"
In my first week, another new employee, Jake (a BA from IBM) and I were given a project: design and build a tool to assist with the "alignment and propagation of goals throughout Arrk".  We spent the next four months working with a team across Mumbai and Manchester, researching, designing and building. The whole team was open and supportive, which as a newcomer was really reassuring.
Along the way I tried my hand at the following…
Design Thinking
The first few weeks of the project was all about research and design. We conducted some internal Design Thinking sessions. Design Thinking is a creative strategy for solving problems. It takes you from discovery and specification of a problem, through design, iteration and then a proposal of prioritised work ready to be designed. It was also a great way to get to know other employees – interesting to see how other staff members reacted to how a newcomer might go about such a task. It did feel as if my mistakes were valuable. I even feel like we made a 'mArrk' on their methodologies.
UX Design
With guidance from an experienced designer, Jake and I designed the interface for the first release of our product. We crafted paper prototypes, tested and improved them. We then built digital simulations, conducted user tests and iterated. My main lesson from this has been 'build for the user, not the machine'.
Programming
Studying for a physics masters taught me computing methods for solving equations, data analysis, lab work, microcontroller programming and more. After four years of scientific computing, I thought I understood programming. How wrong I was! Building software with a distributed team is very different. New areas for me included front-end development, databases and working with frameworks.

It feels quite unique to be working in an organisation with such a flat structure and open culture where failing (fast) is encouraged and ideas are never shot down. To see a project through from its inception in your first week of a new job, through development and into delivery is an extremely valuable experience to have. When an exciting customer facing project came along next, we were now ready to jump straight in!
Do you have what it takes to join our rapidly expanding team? Visit our careers page to see some of the exciting and extremely rewarding vacancies we have to offer.