Windows 10: What To Expect

With the release date for Microsoft Windows 10 rapidly approaching, excitement is at a fever pitch about what the operating system will have to offer: especially after Microsoft described it as the "last edition of Windows".
Here we take a look at what to expect from Microsoft Windows 10, including Microsoft Build 2015.
What will Microsoft Windows 10 include?
At the Microsoft Build 2015 event, a number of announcements were made about what we can expect from Microsoft Windows 10. Among the highlights were:
Microsoft Edge | Internet Explorer has often been dubbed the weak link among internet browsers such as Firefox, Safari and Google Chrome. However, that should all change thanks to the launch of Microsoft Edge: a brand new browser, previously known as Project Spartan, which aims to do all that the most notable browsers can do – and a lot more on top.Edge looks like it could be a unique offering because the Windows system is baked deep into the browser to make it more convenient to use. This means that, for example, there will be links to apps within the Microsoft Store as well as a design that will echo the live tiles on the Start menu.
App Mobility | In an attempt to boost the offerings available at the Windows Store, Microsoft has revealed that Windows 10 apps can be created easily with just small tweaks to iOS and Android code. So, for popular apps like Candy Crush Saga, Periscope and Snapchat, it will be easy to port them across to Windows. So apps that were previously locked into either iOS or Android can now be moved across to any device that uses Windows 10.
Microsoft Makers join forces | With Windows 10, Microsoft is hoping to lure the creative developers that have often shown more interest in other platforms. Microsoft wants Windows 10 to be the platform that people will create on: toting the idea that it is a "universal platform". This means that the code you use to make up a creative application can then be scaled across to a host of different devices.
Visual Studio Code | Windows owners will be accustomed to Visual Studio which allows them to code web projects and applications. However, now Microsoft is actually going to spread this idea across to Linux and Mac OS users too. This means that the popular debug tool and coding editor will now be available to a new community of developers. As an added plus, it will be completely free for downloads.
Continuum | Perhaps the biggest announcement at the Build 2015 event was the reveal for Continuum: which is designed to turn phones into personal computers. This doesn't just mean that Windows 10 can be scaled down to be mobile-friendly: it actually means that, via a mobile device, the operating system can upscale to take these capabilities to big screens. It will allow secondary devices to act like a keyboard and mouse if you don't have one; and it is expected that it will allow things likes articles you're reading to be shared across devices.
What are the goals for Windows 10 and what is its release date?
Microsoft has announced that Windows 10 will launch in around 190 countries at the end of July.
Certainly, Microsoft has set its sights high for Windows 10: estimating that it will have one billion total users. To achieve this it hopes to offer a consistent experience across both personal computers and mobile phones and believes that several factors will attract new users including a facelift to Windows Store, which aims to improve the user experience; the fact that apps will be universal; and that it will be completely free as an upgrade for current Windows 7 and Windows 8 users. So it's a cheap deal that is sure to attract a massive install base as soon as the product is released.
What else was revealed at Build 2015?
While Windows 10 has had developers drooling even before Build 2015, the event itself unleashed many exciting new concepts that have raised our interest.
For example, HoloLens represents Microsoft's plans to step into the world of augmented reality. It is a head-mounted, wire-free display that is said to adapt to any environment – it was even demonstrated how it can be used in a study by Case Western Reserve University, which has used it to examine human anatomy.
Meanwhile, Direct X 12 will have gamers excited with lifelike characters and PC style configuration. It makes use of a Digital Storm desktop that presents 63million polygons and is powered across four GPUs. Another fun idea was the so-called "How do I look?" site that allows you to present a picture of yourself and it will then display an estimated age. It was just fun of course, but definitely a cool concept to see.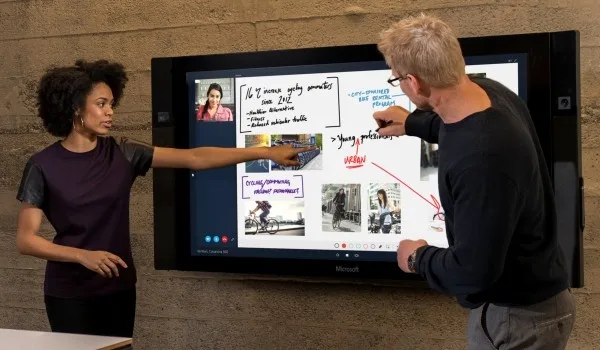 On a more serious note was Surface Hub: an 84inch productivity tablet. It is seen as an incredible meeting tool for businesses with the potential to replace the whiteboard while offering smooth collaboration and interaction. It is expected to be launched around the same time as Windows 10…
So plenty to be excited about…