The Dawn of a New Era for Technology in the Construction Industry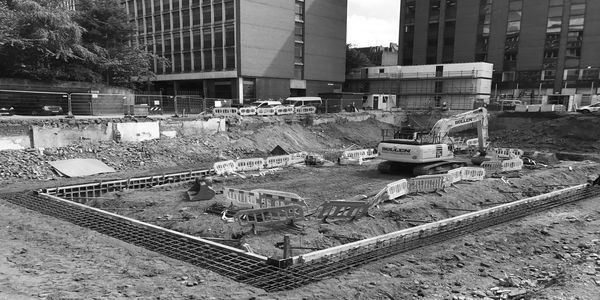 Construction is an industry in need of technological disruption. Firms must frequently coordinate large-scale, complex projects with a large number of stakeholders, and project requirements change on a regular basis. Everyone knows that construction work is highly prone to delays and complications, but it shouldn't be this way.
At the moment, project management, surveying and design tools in construction remain largely paper-based, or are communicated over email with different teams working from versions that are not up-to-date.
Safety issues also remain a concern for construction workers, who are often based in dangerous environments such as roads or mines.
In 2011, the government revealed big plans to modernise the construction industry with their Government Construction Strategy. It required all information materials for government construction projects to be digitised by 2016.
The challenges
The influential Farmer Review report in 2016 advocated a 'modernise or die' approach for construction, and advised an urgent update of construction's existing labour model. The report lambasted a lack of trained workers, and a complete absence of innovation, research and development.
The skills shortage is partly caused by an ageing workforce, with large numbers of workers leaving the industry. Construction is not commonly seen as an attractive career choice for younger workers.
After the announcement that Britain is to leave the European Union, the construction industry faces increased uncertainty. The prospect of investment is not as reliable, and companies are turning to technological innovation to create more opportunities.
Construction also employs large numbers of non-UK national workers, and the future of these emigrant workers remains unclear. There's now a risk that important infrastructure projects could be put on hold if there becomes a reducing pool of skilled workers available to the construction industry.
Benefits of construction tech
Construction technologies will improve collaboration between many parties, including construction firms, clients and investors, by helping to visualise a project in advance of complete construction with 3D technology.
Construction tech also has the potential to improve efficiency and cut costs, boosting the reputation of the construction industry at large. Certain time and labour-intensive processes have the potential to be hugely shortened by new technologies.
New technologies will also increase profitability in the long-term, as the construction industry achieves sustainable growth. A focus on development will attract more workers into the industry, as construction is rebranded as a career choice with more opportunities.
Examples of how tech is transforming the industry
Drones
Drones can keep track of a project's progress and also increase site security, such as this stadium construction site in California. The drones collect video footage of the site, convert it to a 3D model, which software compares to original construction plans to measure progress. Drone mapping speeds up site surveying time from weeks to days, largely by improving the efficiency of data collection.
Driverless vehicles
A mine in Australia is using driverless trucks to transport ore, controlled remotely by one driver. This means workers don't have to venture into dangerous environments, reducing fuel waste and lowering costs.
Driverless crash trucks that are meant to protect workers while they're posted on dangerous road construction sites can save lives.
Building information modelling
Building information modelling is the process of collaborating over a 3D shared model of a construction project to manage the design more efficiently. The model contains all the data needed to complete a project, and multiple users can update the model with relevant information. BIM creates a tangible representation of a construction project and improves coordination between teams.
Protective gear
Smart helmets using Google Glass and augmented reality have been developed as the natural successor to the traditional hard hat. They're in-built with technology to guide the wearer how best to move through the construction environment, based on data collected by sensors and cameras. They can give warnings for potential hazards, and also provide the wearer with guidance for completing tasks, boosting safety and productivity.
Project management apps
Rhumbix is an app that enables construction managers to manage their projects better by creating and amending time cards, orders, notes and reports. This removes the need to rely on paper-based reports. All users can keep up-to-date on the status of projects in real-time.
The future of construction tech
Technological adoption in construction is still slow, but with the pressures of leaving the European Union, progress is set to accelerate. Companies will be more willing to innovate in order to cope with these economic challenges.
Although there is some talk of robotic construction workers and 3D printing homes on the horizon, that future is not quite here yet. The focus should be on disrupting existing processes in the construction industry to make them work better for companies, clients and investors, and attracting more talent.
Even simply improving project management can save a significant time and drastically cut costs, improving the overall value of a project.