A guide to submitting iOS apps to iTunes

While authoring an application for the iOS platform is relatively straightforward and can incorporate the use of a variety of web-based skills, such as HTML or JavaScript, combined with a third party framework such as Titanium or Phonegap. Issues can emerge when the bundled application is uploaded to Apple App Store.
As a result, Arrk Group has published this Purple Paper which contains good practice advice on ensuring a smooth transition from an unpublished to published app.
While getting to grips with iTunes Connect, Apple's app submission and management tool, is extremely significant to the successful outcome of the project, perhaps the most important aspect is the naming of the app.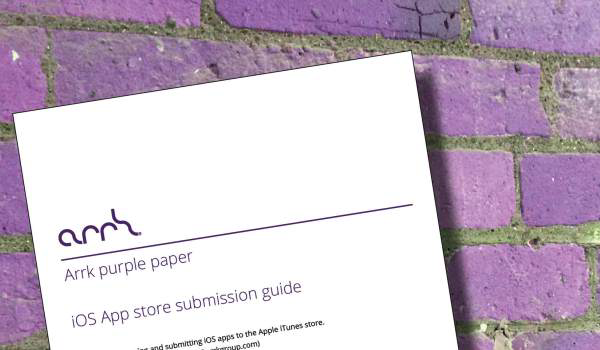 Our guide walks you through some of the potential pitfalls faced when it comes to naming an application. We also look at vital elements under your control such as spotting potential copyright infringement and ensuring that your app is easy to find on the store.
This guide is not intended to replace the copious amounts of detailed documentation Apple has produced surrounding its App Store and iTunes Connect tool, instead using this guide should help you get your app published and up on the store with the minimum of fuss.
Once every upload hurdle has been overcome, you should receive an email confirming that it is now with Apple and waiting for review. This process can take between one and two weeks. Once the review is complete, the app will be automatically made live (if this option was chosen) or if the app was rejected, a process of evaluating the failure must be undertaken. Though it is possible to appeal the rejection, presenting a credible case against the closed walls of Apple review policy is very difficult.
One note of caution is this guide is Macintosh centric. Key tools used such as Xcode or the Uploader app mentioned in the guide are Macintosh only.
Download, read and keep the Guide to submitting iOS apps to the Apple iTunes store now.