Our digital platform development expertise is the result of implementing effective and robust e-business solutions and associated web technologies since 1998. Arrk Group has successfully partnered with some of the UK's premium financial services, media, telecoms, not-for-profit and technology organisations to launch highly successful e-service and e-sales channels. Enabling our Customers to achieve their organisational goals and objectives.
As web technologies have become the standard for 21st century application development, so we have helped Customers to launch enterprise web applications in such new areas as online business intelligence, e-learning, enterprise information portals and aggregation technologies. Whatever the application domain; enterprise, dot.com, intranet, or extranet, the fundamentals of developing effective, robust, scalable and secure enterprise web applications are the same.
Enterprise Web Applications shaped by web design
We believe that Enterprise Web Applications (EWA), especially those which are designed for use by Customers, have a unique set of challenges that consequently bring together three different disciplines:
High-quality creative end-user experience design
Strategic and tactical business requirement analysis and innovation
Leading edge technical software engineering
These three disciplines are sometimes referred to as the 'Holy Trinity' of web design.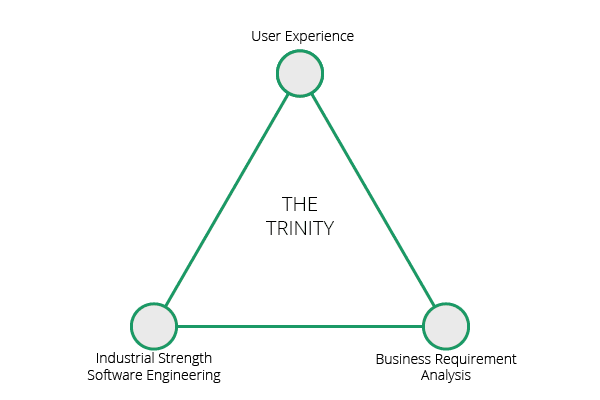 Since Arrk Group's inception we have worked to develop methodologies, processes and capabilities that today allow us to deliver technologies that unite these disciplines.
The importance of effective user experience
Users typically have a preferred way of interacting with web applications based on intuition and previous experience. Building these preferences into a design can strongly amplify brand values and preserve or enhance the profile of the site, creating a strong unique selling point.
Usability, interaction, personalisation and creative design values are critical factors in determining how users will respond to an application. Ultimately they will impact strongly on the success or failure of a given enterprise web application, particularly service-service applications.
To be effective the user experience design must be at the centre of creative thinking for an enterprise web application throughout all phases of development. It must also be continually monitored and optimised after deployment. The most effective way to do this is to ensure that users are involved in the development process from the outset rather than waiting until the end to start usability testing. Crucially technical and creative teams must work closely together to understand each other's perspectives so that Rich Internet Application technologies can be used appropriately to enhance the user experience rather than limiting it.
Digital platform development analysis
Increasingly we are moving away from stove-pipe e-commerce solutions towards fully integrated Enterprise Web Applications which share common databases and business logic with legacy systems and other applications. Arrk Group's philosophy is to integrate e-business projects fully into the business processes of its Customers. Such integration often results in Arrk Group engaging with Customers to strategically re-align and re-engineer existing business processes in order to maximise the business benefits of implementation.
Technology design and innovation
The engineering of robust, scalable, high performing and secure enterprise web applications often themselves tightly integrated with complex data oriented back-end business systems is a central tenet to Arrk Group's digital platform development services.
Arrk Group understands that every Customer has a unique digital platform development requirement which means we believe in focusing on developing functionality that best delivers a business advantage. Our experience and expertise ensures we use our understanding of the wider software market to utilise the most appropriate package to fulfil the task, whatever the source.
Harmonious application integration
The key to the harmonious integration of the three different disciplines is a solid and practical integrated Delivery Methodology. Developed by Arrk Group, this is tuned to the unique needs and requirements of each activity and being focused on web application development, it aims to accelerate time-to-benefits. The advantage of the Arrk Group development lifecycle is that it concentrates on activities and deliverables which are specifically relevant to web application using an iterative delivery method. More importantly it is very easy for the end-user to understand, therefore increasing stakeholder engagement and reducing costly acceptance issues following development.