Modern organisations are faced with a perfect storm where they need to innovate rapidly, respond to the ever-increasing pace of technical change whilst also countering market disruptions and competitor products. Within this landscape inefficient methods of IT, delivery can result in extended delivery times, organisational paralysis as planning processes don't react quickly enough, reduced software quality, increased project risks, unpredictable release content and software which is not aligned to current user needs. This can create toxic environments within delivery organisations as technical teams become disenfranchised due to a disconnection between delivery and the business. In a world of scarce and expensive resources, this can create additional risk to the business as team morale becomes impacted.
Needless to say, this is not good! Modern, well implemented and well operated agile methodologies can address these challenges and help organisations align the needs of the business and their customer, with the tools and techniques available to today's IT delivery team. Arrk's experienced team of consultants, who have the scars on their backs from both successful and unsuccessful Agile implementations, are well placed to work with organisations to implement Agile from scratch or improve the effectiveness of existing Agile implementations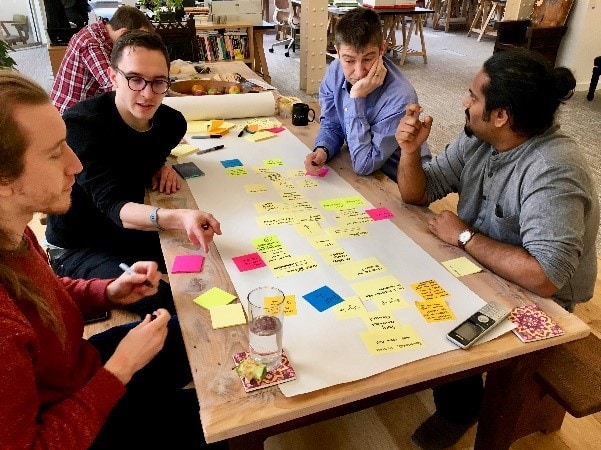 Arrk's Agile Enablement Methodology
The Arrk Agile Maturity Assessment is a structured set of 3-day workshops, delivered using Lean-Agile techniques which evaluates the current state of people, processes, tools and technology within your business. Our workshops are delivered by our experienced team of Arrkitects, who all have extensive experience of Agile delivery – both successful and unsuccessful. Our workshops are a highly collaborative process – everyone participates!
The group is divided into small teams, each lead by an Arrkitect, and the teams work to understand how your business operates by documenting:
Macro objectives of the business, how it structures itself, the position of IT how innovation is handled and how requirements flow into development
As is development processes, tools, technologies and structure
How change occurs within IT, how this impacts the teams and what "to be" processes may look like
Like the workshops documentation is collaborative, information is recorded on Post-It notes which are structured on the walls in which the workshop is running. This provides a live stream of consciousness, which can be easily changed and amended as the workshop evolve
Outputs from the Agile Maturity Assessment include the photo's of the Post-Its from each day and a structured reporting a categorised issue list, recommendations for change and an Agile Target Operating Model.
Challenges in the industry section
As businesses seek to make themselves more responsive to rapidly changing market conditions, IT delivery and planning must adapt and become an enabler and not a blocker. Organisations whose planning and delivery models can't keep up with changing business needs should consider implementing Agile methodologies, to increase the flexibility within the software delivery planning processes. With native cloud services and DevOps practices maturing at pace, the ability to increase the pace of software delivery is increasing year on year. To take advantage of these opportunities, organisations must look to adopt agile methodologies to structure their delivery models appropriately
However, these pressures are not only relevant to organisations who currently use waterfall methodologies. Organisations who are already on their Agile journey can experience exactly the same challenges as Agile implementations can easily be unduly influenced by internal organisational pressures, to the detriment of effective IT delivery. When combined with the scarcity of experienced Agile practitioners in a competitive labour market, many organisations could benefit from the Arrk Agile Enablement Service.
Lead by experienced Agile practitioners
Our service is lead by experienced Agile practitioners who have the scars on their backs from successful, and unsuccessful, Agile implementations. We will ask difficult questions and challenge accepted norms where necessary. We will work jointly with your people to understand and agree what's best for your organisation.
Clear and concise outputs to drive change
After the workshops, we will work through what we have learnt, provide recommendations for change and create an Agile Target Operating model for your organisation.
Bringing together IT and delivery
The collaborative nature of the Arrk Agile Enablement workshops brings together IT delivery teams, stakeholders and sponsors from the business in a way that can often be difficult in business as usual operations. Our experienced Agile practitioners will help ensure that any barriers or silo's present within the workshops are addressed