Mobility Solutions header
Traditional mobility solutions are no longer differentiating; businesses and consumers expect them to be provided by default. This expectation increases as organisations adopt new operating models which drive new ways of engaging with customers, colleagues, partners and suppliers. As pressure increases from disruptive new market entrants, the ongoing pace of change, the demand for innovation alongside user expectation; organisations face an ongoing need for mobility solutions.
Historically some businesses have taken an app-centric approach to mobility, which delivers some benefits but can also fail to address the need for strategic change. Transformational mobile delivery requires a bi-modal approach delivering cloud enablement, DevOps adoption and micro-service delivery alongside agile delivery of the mobility component.
The next generation of mobility solutions are delivering a fundamental shift, which moves away from an app centred approach to one based around the integration of technologies such as Artificial Intelligence, Machine Learning and Bot based technology. This will drive a new generation of business-focused solutions which are intelligent, adaptive and capable of human-like interactions with the user. As a leading technology solutions provider with strong mobile experience, Arrk can help organisations deliver strategic change through mobility solutions.
Arrk's Mobility Solution Methodology
Arrk provides mobile solutions across a broad range of needs including:
Consumer (B2C) mobility solutions that extend the reach of businesses to the device of their customers
Business (B2B) mobility solutions that enable organisations to connect with their colleagues, partners or suppliers
Enterprise mobility solutions that replace existing business workflow processes with mobile solutions delivering real transformational change
A user first design processes which put the needs of the end user at the heart of the solution using our trademark Lean-Agile EmbArrk methodology
API and micro-service development to underpin effective transformational mobile delivery
Devops tooling and processes to enable rapid iteration of software and infrastructure
Cloud delivery to provide a flexible infrastructure solution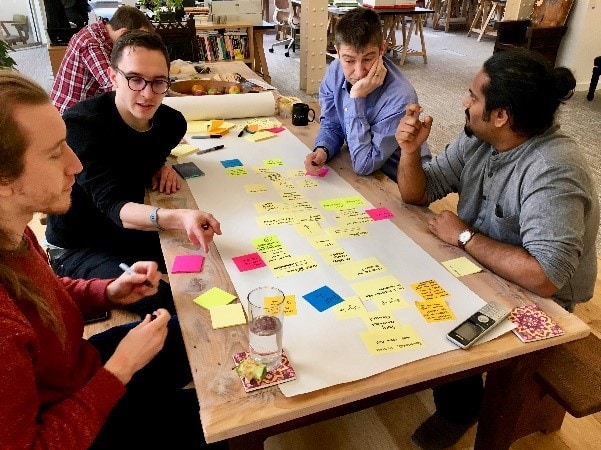 Arrk's Technologies
Arrk delivers solutions using a broad range of technologies and platforms. We prefer open source, but we also work in proprietary technologies where required. Some of our recent projects have delivered:
Native app development using Swift and Objective-C for iOS and Java for Android development.
Responsive web solutions using JavaScript frameworks backed by application tier components written using Java, Microsoft .NET, Ruby and Python
Cross-platform applications using Xamarin, Cordova and PhoneGap
User interface designs which make use of best practice from Government Digital Services (GDS) standards for usability
Flexible, on-demand, pay as you go, cloud-based infrastructures using Amazon Web Services (AWS) and Google Cloud Platform (GCP)
Increased efficiency
Automation of business processes with mobility solutions can lead to increased efficiency as manual processes and legacy ways of working are replaced.
Reduced costs
Well designed and well implemented mobile solutions can provide greater engagement with customers, partners and / or suppliers which in turn provides opportunities to reduce costs and increase revenue
Stakeholder satisfaction
Delivering a mobility solution with outstanding user experience can strengthen the position of a brand within its chosen marketplace, and provide a competitive differentiation and/or a means to improve colleague satisfaction levels.
Greater customer insights
Mobility solutions with strong embedded analytics capability can enable the creation of greater customer insights,which gives opportunities for improved marketing and customer engagement via the acquisition and analysis of detailed user interaction data.
Access to experienced resource
Our teams of experienced mobile developers can fill the resource gap that organisations may sometimes have in a competitive labour market, and help you deliver real change via mobility within your organisation