TechmArrk™ is a rapid, adaptable and collaborative software architecture review. The process is lightweight, time-boxed and iterative; incorporating regular stand-up calls to review findings and priorities. The review concludes with a comprehensive report, complete with findings, recommendations, and time-bound action points.
Tailored to the specifics of the organisation, budget and the level of detail required, TechmArrk™ typical durations are 5, 10 or 15 days, and includes a full-stack investigation and selective 'deep dive' code reviews.
The review provides expert analysis and insight into a variety of key areas, including:
Scalability, availability, and performance
Use of automated code quality tools
Test coverage and test quality
Maintainability
Technical debt
Security
API
A typical five-day review consists of: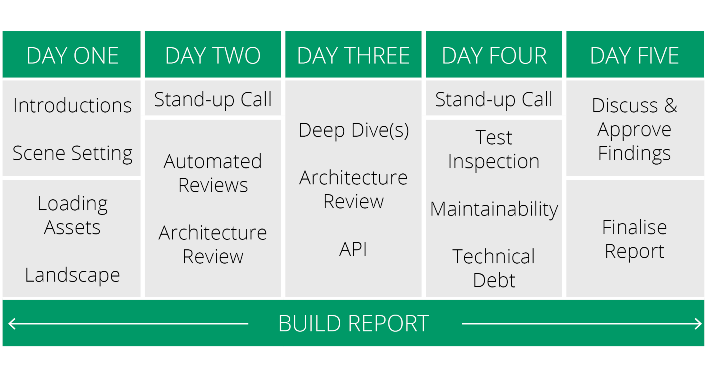 If you want to know more about TechmArrk™ and how it can help your organisation achieve its software development goals, get in touch with the team.
[c5ab_button text="Download the Service Overview Document" link="https://www.arrkgroup.com/wp-content/uploads/2016/08/Arrk-TechmArrk-v2.pdf" icon="fa fa-none" font_size="24″ font_weight="300″ button_class="" float="center" button_text_color="#ffffff" button_text_hover_color="#f6f6f6″ button_bg_color="#481365″ button_bg_hover_color="#f8b626″]