Rapid Digitisation Service is an unique approach to developing digital services and delivers new, easy to use and engaging digital products in a matter of weeks.
Incorporating an initial EmbArrk™ project scoping period, followed by an intensive Agile development period through to User Acceptance Testing and deployment, a typical Rapid Digitisation Service cycle lasts between 9 to 12 weeks depending on the complexity of the project.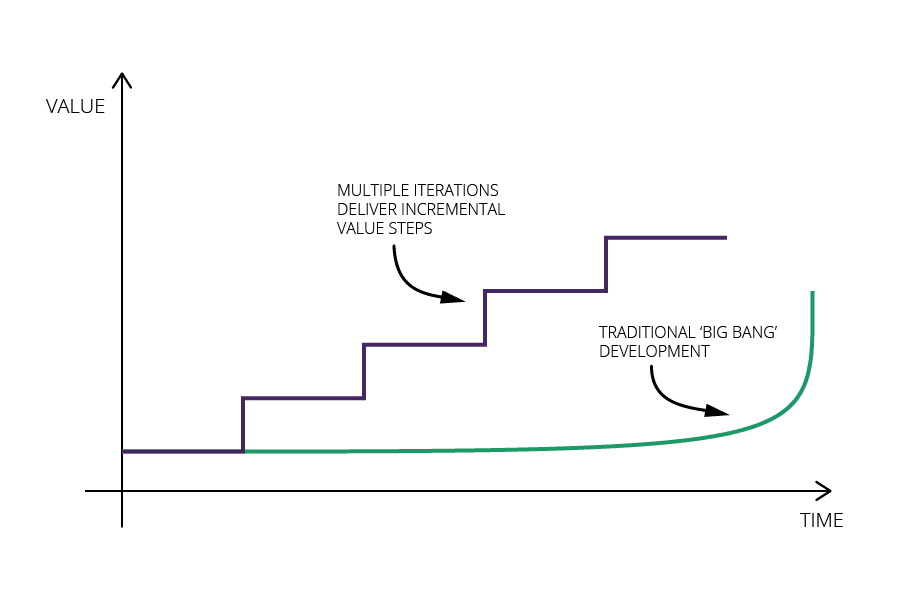 The software engineering phase is structured but highly flexible and uses robust Agile software engineering practices such as continuous integration, build and deployment pipeline automation, test automation and cloud-based development and test environments and takes a Scrumban project management approach. The engineering phase is typically delivered using distributed teams to maximise productivity and effectiveness whilst keeping a control of costs.
The goal of the service is to deliver a digital product into production within 12 weeks from starting the project. The software will be fully working, tested, production quality software designed from a digital by default and user centred design perspective.

Key Features
Initial EmbArrk™ phase can deliver the following, depending on specifics of the engagement:

Prioritised objectives
Business case
Project roadmap
Process maps
Architecture model
Low fidelity prototypes
master story list
high-level release plan

Agile-based Delivery phase

Daily stand-ups
weekly progress summary
Iterative sprint cycle: Initial 2-week sprint followed by 2-4 week sprints
Metrics driven
Governance built in
Rapid releases
Rapid testing

User Acceptance Testing/Deployment

Typically a Rapid Digitisation Service can take a standard nine-month project and deliver it in three.
If you want to know more about Arrk Group's Rapid Digitisation Service and how it can help your organisation achieve its digitisation goals, call the team today.
[c5ab_button text="Download the service overview pdf" link="https://www.arrkgroup.com/wp-content/uploads/2017/04/Arrk-Group-Rapid-Digitisation-Service-Doc-v5-1.pdf" icon="fa fa-none" font_size="24″ font_weight="300″ button_class="" float="center" button_text_color="#ffffff" button_text_hover_color="#f6f6f6″ button_bg_color="#481365″ button_bg_hover_color="#f8b626″ ]