Arrk Group uses the Lean and Agile Delivery methodology where it is possible. Over 75 per cent of the projects we deliver are executed using the Agile delivery methods and the consultants in our Agile Practice are very experienced not only in the technical aspects of this approach but also in establishing management level processes that ensure that Agile-led projects are set-up in a manner that maximises their successful delivery.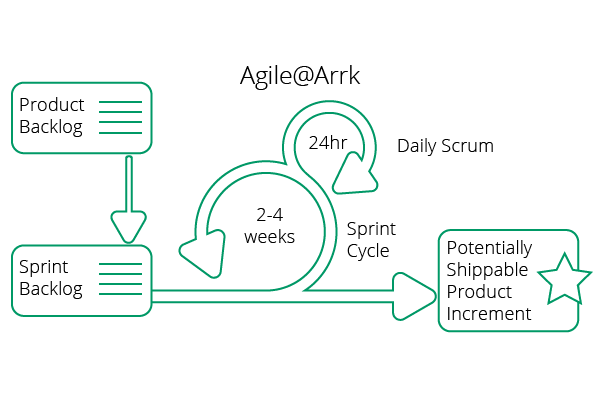 In delivering solutions using an Agile-based methodology, the prioritised business requirements are a critical touchstone and we use them as our guideline to scope and shape the required customer solution to ensure a rapid, successful, on-time and high quality delivery.
EmbArrk™
We EmbArrk™ on the Agile@Arrk journey by visiting customers and conducting intensive discovery workshops to quickly deliver a strategic roadmap that forms the baseline for high-level prioritised business requirements.
Hybrid Collaboration
Our unique hybrid delivery model provides complete transparency to our customers and encourages seamless collaboration across continents.
This helps our highly experienced agile teams to deliver high quality user-centric products.
Evolutionary Scrum
Our evolutionary scrum processes incorporate the best of agile and onshore-offshore management practises that provide quicker feedback and deliver usable products that save costs and achieve business objectives.
Extreme In-between
Our extreme development methods ensure that your systems are designed and maintained using the highest standards. From high speed deployment processes to managing your product's usability and performance, we deliver.
Project Governance
A Project Management Plan is prepared which documents the strategy to execute the project based on Kickoff Meeting. Project Plan consists of;
Life Cycle
Estimates
Test Plan
Review plan consisting of technical reviews
Project review mechanism
Quality assurance mechanism
Quality objectives and metrics mechanism
The Plan is prepared, reviewed, approved and shared with team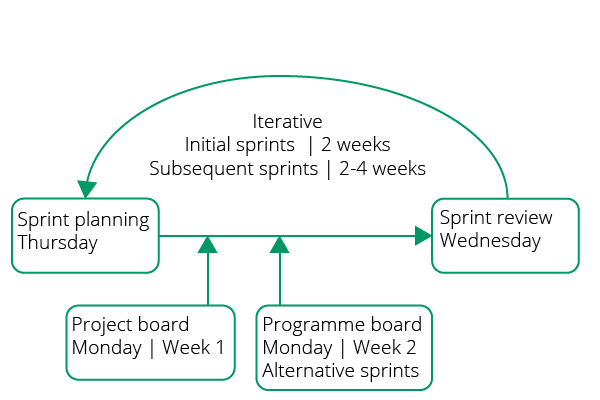 Project Monitoring and Control :
Daily stand up meeting with the team
Weekly reviews by the Delivery Manager
Weekly progress review with the Customer
Monthly status review
Project board review
Project progress is monitored to track project progress against goals. These meetings track Task Progress, Effort, Review status, Testing Status, Milestone progress, Metrics, Quality Assurance reports, Risk and issues. Actions are planned to bring back deviations under control.